Welcome to PLDI'23. We hope you enjoy it!
This guide includes the following major sections:
The invitation link for our Discord server is https://discord.gg/gbT6Z4D9Bq. Don't forget to read the section below on how to use Discord!
If you're a speaker, please be sure to check out the relevant speakers' guides (PLDI, ISMM, LCTES, and Workshops).
PLDI'23 is part of ACM FCRC, which is held every four years and brings together around a dozen top conferences from across computer science.
The highlight of FCRC is being able to mix with colleagues we only see occasionally, being able to drop in on talks we can't normally attend, and being able to attend high profile plenary talks and panels. PLDI has had a tradition of working with ISCA, and this year we'll have a joint opening reception with ISCA on Sunday night, as well as a joint student event on Monday night.
Unfortunately, the size of FCRC means few locations are able to host it and site selection happens earlier. We know and understand that many people could not or would not attend on account of the conference being located in Florida. Unable to relocate the conference, PLDI responded by trying to make the conference as open and available to as many people as possible, virtually.
Make sure you're familiar with the schedule. The PLDI schedule is available on the PLDI website, the FCRC website, and FCRC's Whova. You can filter the PLDI schedule by day, by track, by room, and by various "badges" such as "Distinguished Paper".
Each session includes a link to the room location (see map below), a link to the Discord channel for that session, and a link to the YouTube stream.
Our Schedule is Tight…
PLDI'23 has a record number of papers, so you're in for a treat! Unfortunately this also means we have no slack in the schedule, so we need to run on time. Please do your bit to help keep things on track, by getting to talks on time and keeping your questions short and on-topic.
PLDI papers are all open access and available from the ACM Digital Library. Just follow the small "DOI" link below the paper in the PLDI schedule. Additionally, many papers have links to preprints attached to the schedule.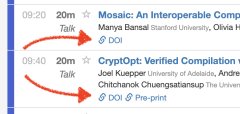 The venue for PLDI'23 is Orlando World Center Marriott.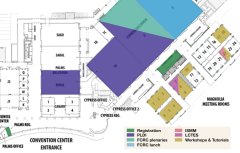 The map above indicates where you'll find key events (click for full-size image).
Please make your way to the FCRC registration desk, which will be in "Palms Registration" until Saturday noon, at which point it will move to " Cypress 2 Alcove" for the remainder of FCRC. Both are marked on the map above.
We are holding a joint welcome reception with ISCA in Royal from 6:00pm to 8:00pm on Sunday. Everyone registered for PLDI (or ISCA) is invited.
Lunch and breakfast will be in Cypress 3, with the exception of Monday's PLDI Awards Lunch, which will be held in Cypress 1.
FCRC provides wifi for the whole event. You should receive information on how to access it at the registration desk.
In-person attendees are warmly encouraged to use Discord (details below). You can use it to coordinate with colleagues, to get updates on activities, and to engage with authors via Q&A. You are very welcome to ask questions via each session's text channel on Discord, before, during, and after the talk. If the session chair has time, they will ask the question on your behalf. Authors have been asked to check their channel for questions, so you can engage with the authors that way if not in-person.
PLDI is dual track. Please check the schedule and note which room your talk is in. One track will be in Royal, the other in Cypress 1 and Cypress** 2**.
These are all held in the Magnolia meeting rooms.
For other questions, you have at least three excellent sources of information: 1) ask your question on Discord, whether it be technical or where to find a good restaurant, 2) ask a student volunteer, they're easy to identify, wearing PLDI'23 t-shirts, 3) ask at the FCRC registration desk.
Although PLDI'23 is an in-person conference, we want to make it as accessible as possible to as many people as possible.
What we could do is make it free and open to everyone, with thanks to our sponsors and those who made voluntary contributions. What we could not do is design the schedule for those in distant time-zones (sorry!). To those in distant time zones: we're sorry that our schedule is not friendly to you, but hope that you enjoy the free asynchronous availability of the talks, papers and chats, and synchronous conversations with others online at the same time as you.
See the section above on how to access papers (all PLDI papers are open access!).
PLDI, ISMM, LCTES and workshops will be streamed to YouTube, and accessible to everyone (Tutorials are not streamed by our video team, but organizers may have made their own arrangements).
Each session will be streamed separately. The link for the session will be visible at the top of the respective Discord channel and in the schedule.

We have paid for live subtitling of the main PLDI tracks.
We encourage remote attendees to engage with talks via Discord (details below in the "Using Discord" section.
Unfortunately the FCRC keynotes are not part of the free offerings from PLDI. However, if you registered for FCRC (i.e. those who made the $70 contribution to PLDI), you will have access to the keynotes (see FCRC for details).
PLDI'23 will use Discord as the platform for virtual engagement. Discord is a social media platform that supports text, voice and video chats. This section of the guide gives a brief overview of how we'll use it and pointers to more general tips on how to use Discord.
Key information:
Our conference is completely open and free for virtual attendees , so our Discord server is open to everyone.
Please use this link to join the PLDI'23 Discord server.
You can use Discord entirely from the browser, or via an app you install.
We have one channel for each technical session. Use that channel to engage virtually with the authors and other attendees.
We ask everyone to edit their profile to set their "server nickname" to their preferred name, their pronouns (if they wish). Updating your avatar with a profile photo can also help improve the virtual experience.
You first need to open user settings. At the lower left corner you should see a small icon with your avatar and your Discord username, with a gear symbol to the right of it. If you click on the gear icon, it will open user settings.
On the left hand side you'll see menu options. Select "Profiles".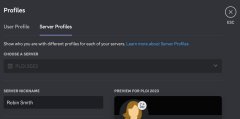 First update your nickname. Under "Profiles", select the "Server Profiles" tab, ensure that the server is "PLDI 2023" (under "Choose a server"), and then edit your "Server Nickname" to be your preferred name, including your pronouns if you wish.
Next, update your avatar if you wish. Under "Profiles", select "User Profile" and under "Avatar" select "Change Avatar".
Click on the "X" at top right to exit the user settings dialogue.
The most important thing to know is that we'll have a text channel for each session, and that's the place to go to engage with the speakers at that session. You'll find them listed under "PLDI MAIN TRACK", "ISMM & LCTES", and "WORKSHOPS AND TUTORIALS" respectively. You'll see one channel per session for PLDI, ISMM, and LCTES and one per event for the workshops and tutorials.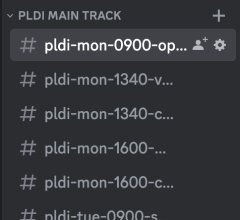 You'll also find links to these channels on the program, such as the link to #pldi-mon-0900-opening-royal in screenshot of the program below. You can just click on the little discord logo to jump to the channel.

We also have a number of other channels, including ones for general questions (#general) and for social events.
To help make the platform friendly and engaging, we encourage you to clearly identify yourself (see notes above on editing your profile).
PLDI is committed to creating a safe and respectful environment for everyone. This includes conversations on Discord. Please be respectful and kind in your interactions on Discord.
You can use Discord to ask questions of the authors, before the talk, during the talk, and after the talk, whether you are on site or remote. When time permits, during each live post-talk Q&A, session chairs will be able to consult Discord and read questions on behalf of the person who posted it. Authors are encouraged to go to Discord after their talk and respond to follow up questions.
Basic use of the text channels is quite straightforward.
Rather than attempting to provide a first-principles guide on how to use Discord in this document, we encourage you to check out the following references: