ANNOUNCING: VIRTUAL ICSE 2020
The 42nd International Conference on Software Engineering
June 27, 2020 – July 19, 2020
Problems accessing the conference?
If you registered for ICSE prior to July 5, you should have received an email from "welcome@clowdr.org", with the subject: "Account signup link for ICSE 2020". This email provides instructions for accessing Clowdr, the app by which you can attend the conference. If you did not receive this email, check your spam folder. If you still can't find it, email "welcome@clowdr.org" and provide your full name, affiliation, country of residence, and email address.
YouTube channel
iQIYI link (1)
iQIYI link (2)
iQIYI link (3)

Point 1: Here is an overview of the entire conference schedule (click to enlarge):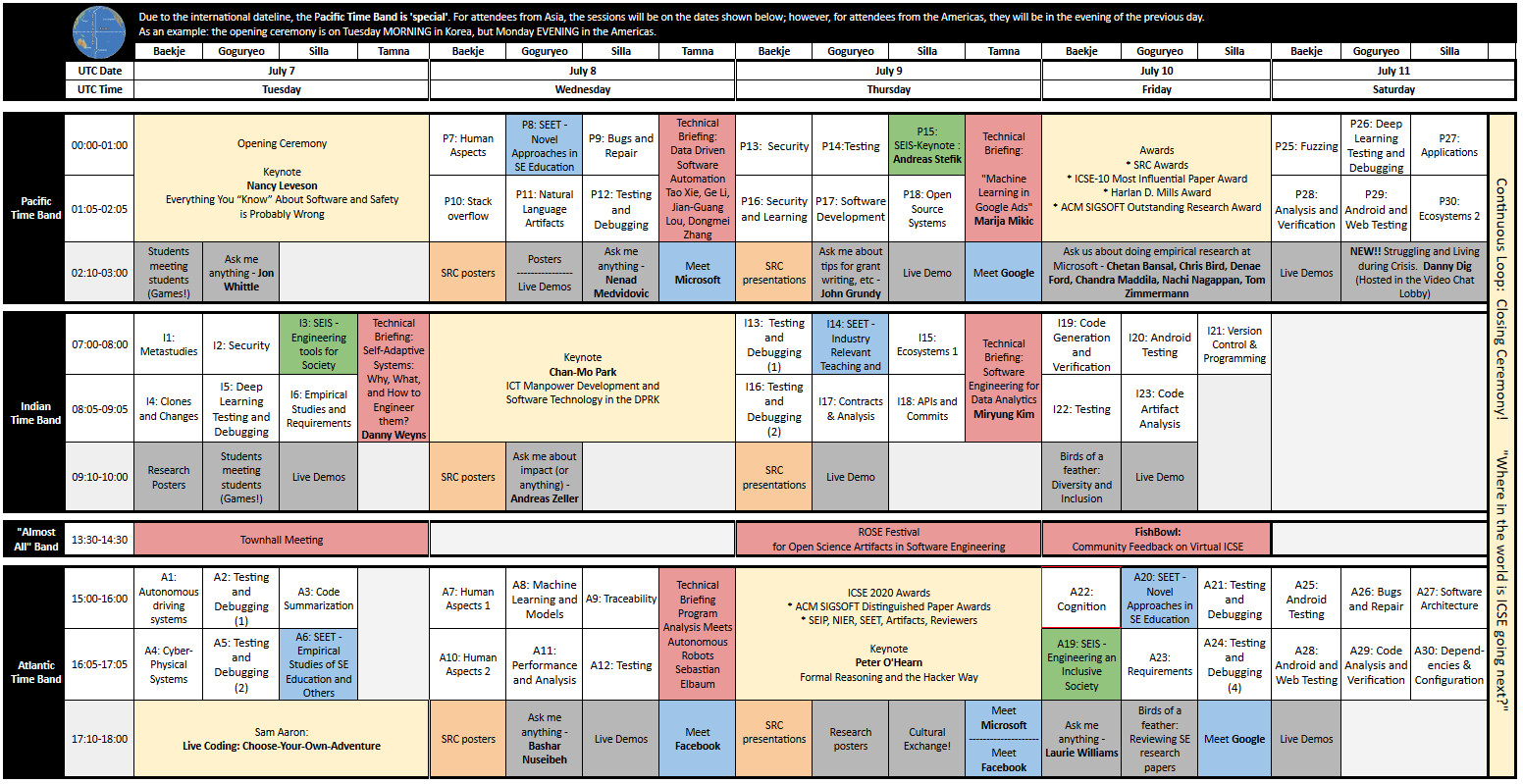 Point 2: Instructions for presenters are posted here and will evolve.
Point 3: Missing the hallway track? Join us for the social event, a live coding conference where attendees can mix and mingle in a virtual world. You can find information on this page.
Point 4: For more info about what virtual ICSE will look like online, and how you'll be able to access its events,, please check out this video:
The main conference will be held starting on July 7th UTC time (July 6th in Europe and the Americas) and running for five days! Sessions have been organized into three timebands named by three major oceans: Pacific, Indian, and Atlantic. This means that everyone in the world will be able to participate in at least two timebands! (Those interested in a detailed explanation of this can find one here.) You can view the schedule on these web pages. All times are listed in UTC; however, you can customize the schedule to your own timezone by clicking on the word "change" under the complete schedule next to the header of the first day!
First of all, there will be keynotes and paper presentations organized into sessions and live-streamed onto YouTube (and mirrored on iQIYI). They will be available in our ICSE 2020 channel and you can view these even without registering. However, attending a conference involves far more than listening to talks. It is all about informal networking during coffee breaks, building new research collaborations, and getting to meet that researcher whose papers you have read. We've had a huge team of people working tirelessly to bring all of this together to create a new type of valuable and interactive experience for all ICSE attendees.
Registered attendees will be able to:
Initiate, or participate in, pop-up video discussions in private rooms during and after the talks.
Attend technical briefings on cutting-edge Software Engineering topics.
Network informally with experts at "Ask me anything" sessions and 'birds of a feather" sessions. These will all be hosted in the third hour of each time band. If you have an idea for a session – let the PC Chairs know!
Ask questions during talks and hang around after the session to chat with the presenters.
Interact with demo and poster presenters
We have tried to keep registration fees as low as possible; however, there are some expenses that we've already incurred due to cancelling our physical conference. More importantly, there are new expenses involved in making Virtual ICSE far more than just a series of talks.
Come and Join us!
We hope that you agree with us, and will join with us in making Virtual ICSE 2020 a memorable and valuable event.
Please register at: https://2020.icse-conferences.org/attending/registration
---
ACM-W Scholarship for Attendance at Research Conferences provides support for women undergraduate and graduate students in Computer Science to attend ICSE 2020.

---
Keynote Plenary Sessions
Dr. Nancy Leveson

Professor of Aeronautics
and Astronautics
MIT
&nbsp
Dr. Peter O'Hearn

Research Scientist at Facebook
and Professor at
University College London
&nbsp

Dr. Chan-Mo Park

POSTECH Former President
/ Chancellor
Pyongyang University of Science
and Technology (PUST)
---
Sponsors and Supporters