International Symposium on Software Testing and Analysis
The ACM SIGSOFT International Symposium on Software Testing and Analysis (ISSTA) is the leading research symposium on software testing and analysis, bringing together academics, industrial researchers, and practitioners to exchange new ideas, problems, and experience on how to analyze and test software systems.
Please see the Venue page for important information regarding parking, accommodation and conference logistics.
Download the proceedings using the password provided to you at the conference.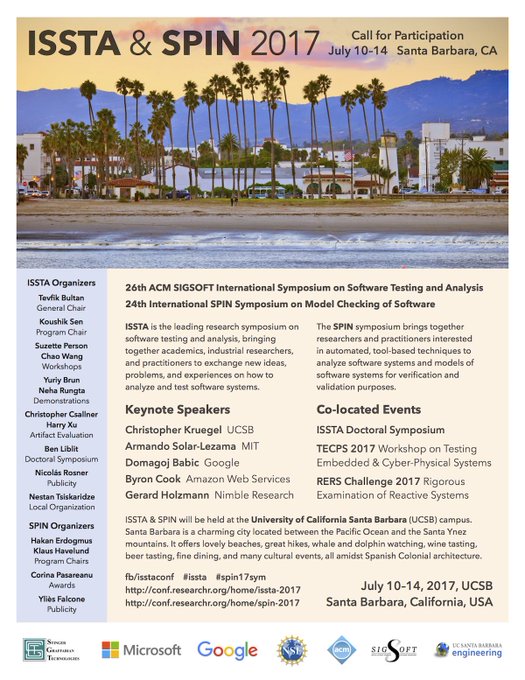 ISSTA 2017 will be held in Santa Barbara, California, USA, on July 10–14, 2017.
Read more about UCSB and conference logistics on the Venue page.
The main conference will take place on July 10–12. The satellite and co-located events will take place on July 12–14. See the week overview.
Authors who are affected by the recent travel restrictions to USA will be accommodated by ISSTA organizers by providing alternative means of presentation.
Registration to attend ISSTA and SPIN is still open!
Online registration is now closed, but you can register on-site.
If you email us your registration request on or before July 7th, you can still get Regular Registration pricing. See the registration page for more details.
Download Keynote Talk Slides